Top 6 Design Ideas for New Homes in Folsom, CA
Welcome to Folsom, California! New housing communities are being built in this lovely California town, and we at Right at Home Interiors are full of excitement! If you're planning on purchasing a fabulous new home in the Folsom Ranch or Russel Ranch communities, you've come to the right place for interior design advice. In this blog post, we will discuss the many aspects of designing your perfect home: we'll start with the design process; talk about how fabric selections can impact your room; the value of custom window treatments; and finally arranging furniture and accessories to create perfect interiors for your new Folsom home! There's quite a lot to consider for the interior design of your home, and working with award-winning designer Keely Hersh will make the process seamless and enjoyable! Let's take a look at Keely's top 6 design ideas for new homes in Folsom, CA:
1. Building and Designing Your Dream Home in Folsom
Beautiful new planned communities are being built in Folsom, CA – Folsom Ranch and Russel Ranch! These new homes are attracting a variety of prospective homeowners. The progress has been incredible to watch, and we at Right at Home Interiors can feel the excitement in the air!
There is no better feeling than purchasing a home and watching it spring to life through the construction progress! The second the concrete is poured, it forms a footprint of your home coming to life. Formulating an interior design plan with Right at Home Interiors as early as possible ensures that your new home will be beautiful inside and out!
Keely Hersh, owner of Right at Home Interiors, started her business in Folsom over 25 years ago and has been assisting Folsom residents ever since. She's got her finger on the pulse of current interior design trends – so read on to see the design ideas she has to share with you!
A dream home is more than the perfect exterior and location! Its interior is also full of warmth, happiness, and enjoyment. Working with Right at Home Interiors will ensure that your new home in Folsom Ranch, Russel Ranch and surrounding areas can help you realize your dream interior design!
2. How to Start the Interior Design Process
While the perfect design for a room can feel like magic, it doesn't just happen overnight; careful and expert planning is what truly brings the design to life! Here we see one of Keely's mood boards created from fabric swatches and wood finish samples for a living room in Folsom. These elements are the starting points to your dream design. It is from these swatches that Keely can begin to order materials and plan a complete design for your new home in beautiful Folsom!
The photo above is the actual completed reveal of the room designed from the mood board!  Isn't it amazing how those fabric swatches came to life? A beautiful blend of blues and cream are throughout the entire room. These furniture pieces, including cozy chairs and an inviting sofa create a warm environment for entertaining. The floating coube ottomans double as extra seating for guests. The beautiful statement lamps, tailored window treatments and artwork add the perfect finishing touches to this charming French Country living room!
Inspiration for your interiors can come from anywhere! This Folsom living room's inspiration for its design comes from the artwork on the wall. A bold graphic fabric valance over the window compliments the colors in the artwork. The sculpture above the fireplace echoes the geometric motifs in the art and fabrics, while adding visual and tactical interest to this modern sitting room!
3. Furnishings and Décor for your Folsom Home
This sophisticated Folsom dining room uses coordinating colors, patterns, and shapes to fashion a modern dining setting that entices family gatherings! The curved shape of the chair backs and glass tabletop engages diners and encourages lingering long after the meal is over. Dramatic floor-to-ceiling gold silk drapes and geometric brass chandelier are next level show-stoppers that complete this amazing dining room!
Sometimes thinking outside of the box can pay off in creative, ways such as dramatic wall displays and varying fabrics! These walls are outfitted with a dimensional collection of decorative ceramic plates that accent the height of the drapes. The designer pillows custom made from a variety of fabrics are soft and inviting, and bring harmony to the room.
A one-of-a-kind statement piece, like this driftwood coffee table adds an unexpected focal point! The juxtaposition of the soft gray sofa next to the leather chair creates a timeless mid-century modern look for this Folsom living room! Custom pillows add an exciting pop with fresh colors and patterns. There's no better feeling than having an inviting space to share with friends and family!
4. Unexpected Function of Soft Window Treatments
More than an interior designer, Keely Hersh designs and fabricates beautiful custom-made window treatments of all kinds! Equipped with her own drapery workroom and over 25 years of experience, Keely can create beautiful designer drapes, soft shades, and more! Many of her designs have even won prestigious Vision Design Awards! Well-designed window coverings will transform your windows into extraordinary statements of beauty and function. Soft window treatments can also offer light control and privacy too! Let's take a look at some functional fabric window treatments ideas tailor-made to suit your home:
1. Combining Drapes and Roman Shades
Layering two window treatments can be an elegant way to include beauty and function! A cascading accordion-folding Roman shade allows natural light into this striking Folsom dining nook. Additionally, full length floral drapes embellished with delicate beads provides the option to open and close as needed throughout the day.
2. Framing Your View with Café Curtains
Café curtains are adorable little additions to windows over counters and kitchen sinks! They are easily opened to start your day and allow in natural light while working in the kitchen. These light and airy window treatments can also highlight ornate hardware, such as decorative curtain rods and finials! Café curtains can also be paired with coordinating valances, as seen here in this Folsom home!
 3. Soft Shades on Patio Doors
Roman shades tailored for this trio of patio doors are a fashionable way to provide privacy in your new Folsom home! While the option for privacy is an essential element in your new home, doing so with beautiful designer Roman shades is a fully customizable possibility. The shades can be drawn or lowered as needed in addition to exhibiting fabulous designer fabrics of your choosing!  A decorative drapery panel is tied to ornate rosettes that align with the ceiling's angle – once again illustrating the magic of combining window treatments!
4. Highlighting Architecture with Floor-to-Ceiling Drapes
Do you have beautiful high ceilings in your new Folsom home? Floor-to-ceiling drapes dramatically highlight the grandeur of these high ceilings! Paired with whisper white privacy shears, natural light can still flow through to the room. Rich gold silk drapes add a layer of decadence to this modern dining space, showing that the right window treatments can add softness and drama to the room!
5. Stylish Hardware for Custom Drapes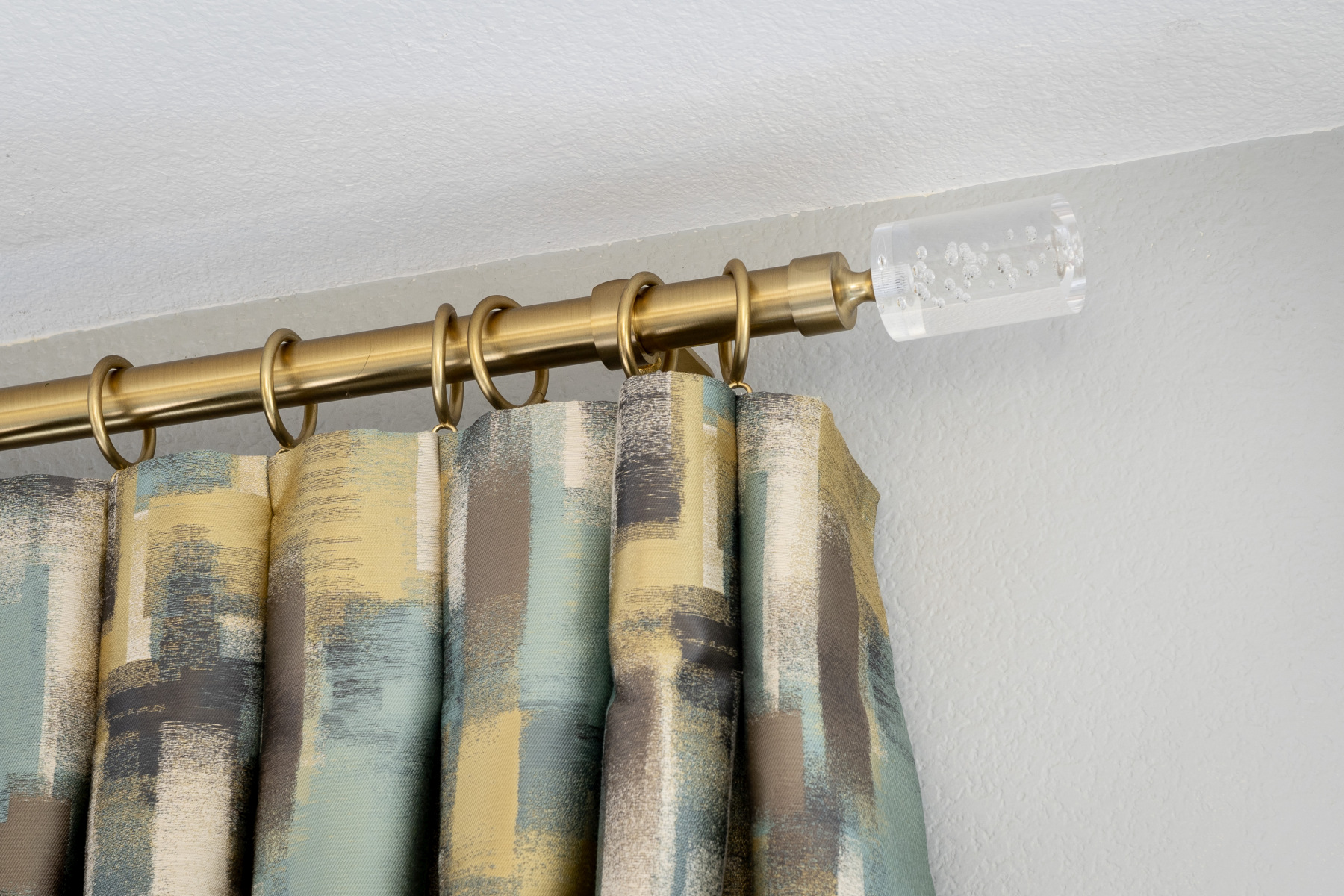 Custom hardware is the jewelry to your perfect window treatment: your hardware choices will elevate both the function and aesthetic of your window treatment. Paired with this graphic modern drape, a slick brass rod, rings and bubble lucite finials were selected to enhance the geometric pattern of this designer fabric.
5. Home Decor Fabrics Bringing Designs to Life
New homes in Folsom Ranch include some fabulous architectural features! This home in Folsom has a window nook that connects the living room and the dining room. A designer fabric combination is on display in this cozy nook. The custom valance, a cushion and coordinating pillow adds warmth to the alcove tucked unexpectedly in this home.
You might think of designer fabrics as an obvious choice for your custom drapes in your new Folsom home, but designer fabrics with to-die-for prints can be used for so much more! Upholstering furniture and fabricating pillows with a variety of fabrics can create an engaging living room, as seen here. The sofa, chairs, coube ottoman and custom throw pillows each feature a different pattern and texture, bringing the room together with style and plenty of comfort!
The power of custom fabrics in your home is undeniable, as seen in this springy Folsom bedroom. Beautiful compositions can be created by layering fabrics that play off of each other! Uplifting floral prints along with shades of teal and pops of pink on both the bed and the drapes all work together in this fairy-tale bedroom!
6. Designer Takes on Accessories
Accessories can be the key to a designer look in your new home!  This Folsom entryway has an incredible dynamic focal point – custom framed herbal botanical prints, hung in a formal symmetrical grid! The entry table also features two lamps with gorgeous hand-woven shades and is finished off with delicate floral accents.
Outfitting walls with shelves adds architectural layers to a room, as well as showcases accessories in a beautiful way. Framed photos, vases, bowls, and other collectibles show off your personal journey and can truly make a room feel complete! Who doesn't love a room filled with family photos and beautiful pieces collected from travels?
A composed dining room hutch can make a beautiful focal point in your formal room. Displaying accessories vertically in the hutch and horizontally on the table creates a dynamic composition in all dimensions. A table runner made from your favorite fabric and topped with the perfect floral arrangement will make your day each time you walk by!
We're so amazed to see these new homes in Folsom being built and forming wonderful communities! The potential each of these homes possesses is limitless. Designing beautiful interiors for your home is an exciting time, so take these fresh ideas as inspiration for your new home in beautiful Folsom, California!
Keely Hersh is the Go-To Designer for Folsom, California
If you're searching for an interior design plan and gorgeous custom-made draperies, Keely Hersh is the interior designer right in your neighborhood! Working with an experienced designer like Keely Hersh can ensure that your new home in Folsom, California can be the perfect home you've always dreamed of. Contact her here!